SERVICES
EXCLUSIVE PRODUCTION
Conception Nurseries offers exclusive production services for the tissue culture propagation of your cannabis clones.
A step above our Cold Storage program you'll find that working with us in an exclusive production capacity can help expand your production output while saving you money and mitigating risk.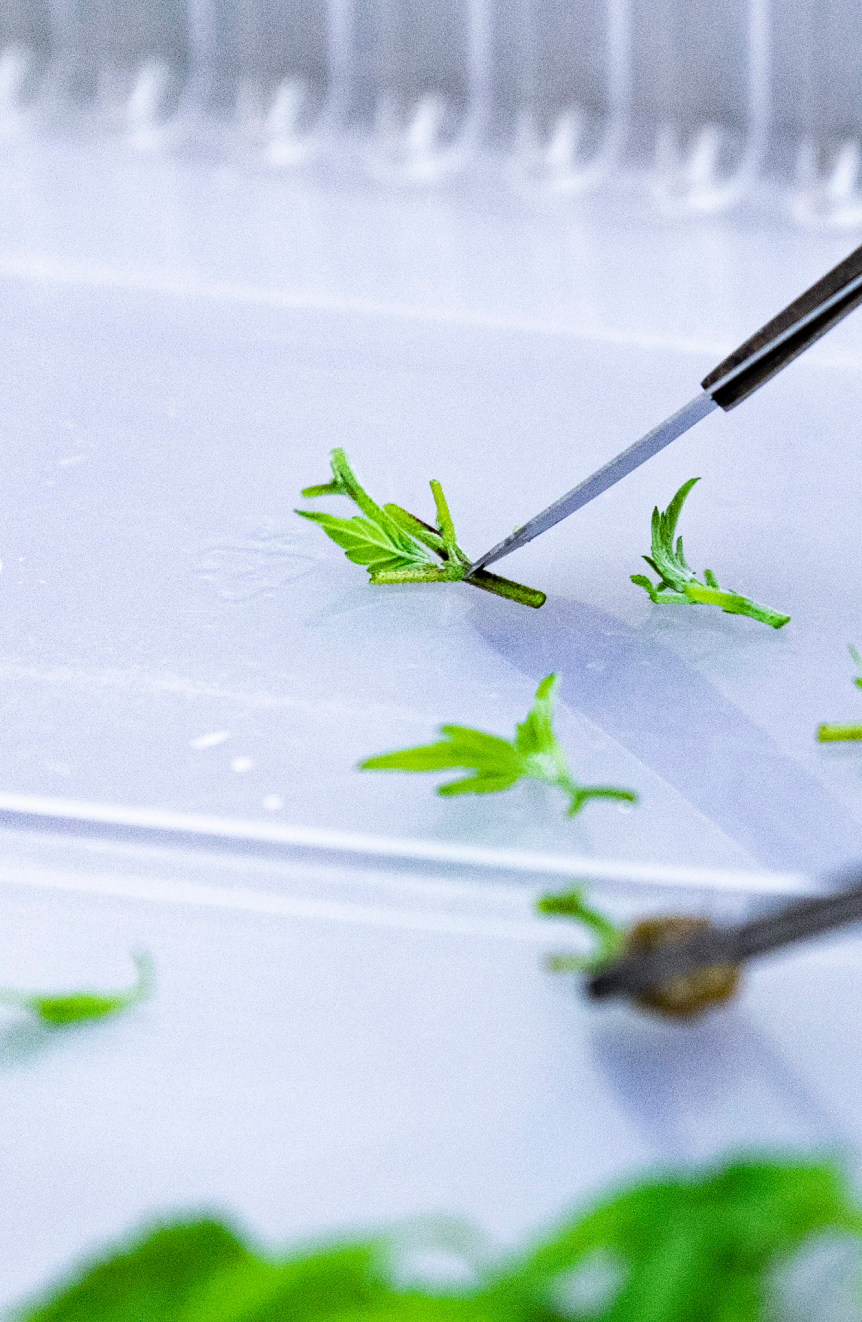 EXCLUSIVE PRODUCTION
TURN YOUR PRIZED GENETICS INTO TISSUE CULTURED CLONES
Unlike seeds and cuttings taken from mother plants, our tissue culture clones are Generation Zero (GenZero) plants. GenZero clones are not obtained from mothers that were grown from tissue culture, something we consider a generation one cutting. Instead, Generation Zero clones are propagated from the culture of a plant's tissue that has been cleaned and restored to its original state.
This means that you're getting hygienic plants and pristine genetics with each and every one of our proprietary TrueClones™ plants—plants that are 100% true-to-type.
By working with Conception in an exclusive production capacity you're safeguarding one of your most valuable assets while mitigating the risks associated with traditional cloning, all while saving the extensive time and resources needed to maintain mother rooms.
Partnering with Conception for Exclusive Production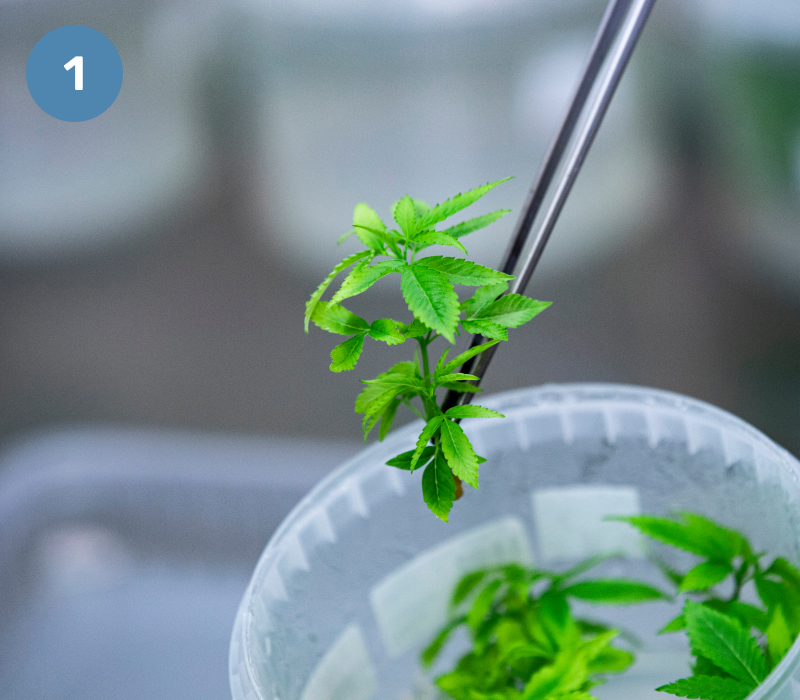 STEP ONE
First, we collect your proprietary genetics to clean them of systemic issues, initiate them into tissue culture, and restore the plants' health and vigor.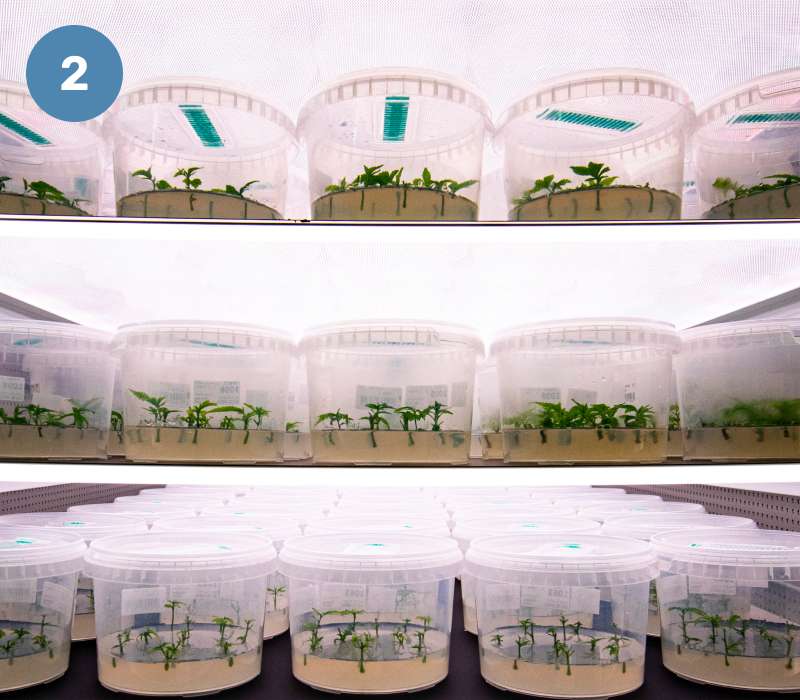 STEP TWO
Next, we store your genetics with a level of
secrecy and care that would make 007 proud:
 Your cultivars are anonymized and we guarantee that your cultivar's clones are exclusive to you.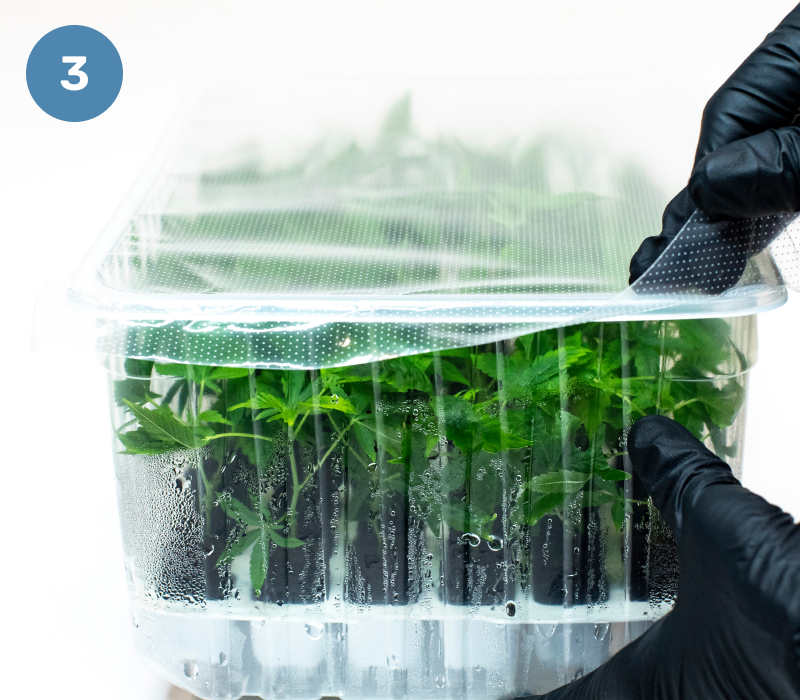 STEP THREE
Finally, whenever you're in need of clone stock we access your genetics, propagate clones and deliver them right to your door.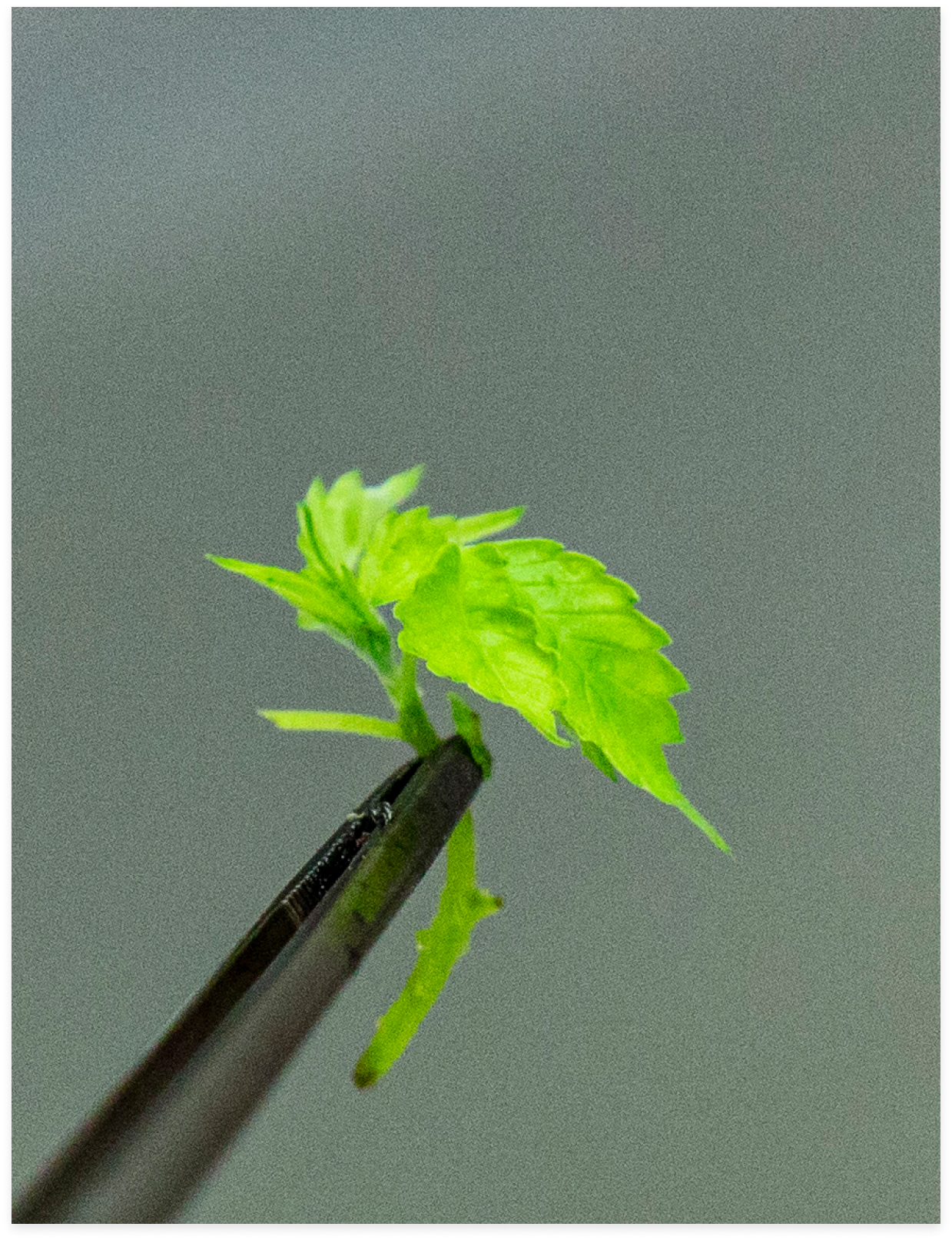 PLANT SIZE
TISSUE CULTURE FOR THE RESTORATION OF VALUABLE GENETICS
We apply the science and laboratory precision of cannabis tissue culture propagation to help your plants regain their vigor and live up to their potential—something that will make all of your stakeholders happy.
Hyper-competitive markets like cannabis require companies to produce exceptional quality if they want to remain relevant and grow. Partnering with Conception Nurseries to leverage the exciting potential of tissue culture propagation is one way to achieve the top shelf quality that you strive for.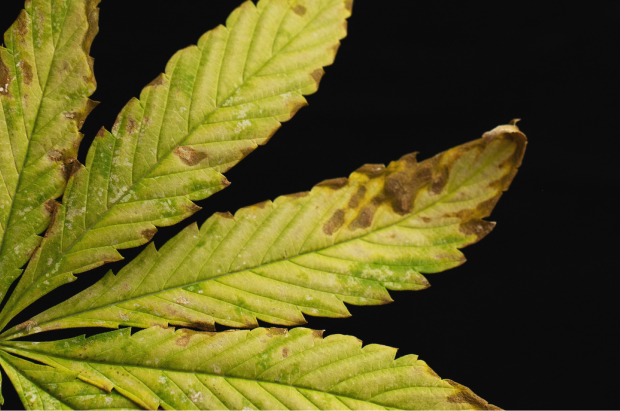 Traditional Propagation
It's an inevitable outcome in traditional cannabis cultivation and propagation: over time genetics become corrupted. The once clean genetics of your cherished cultivars eventually encounter systemic issues, including pests and pathogens.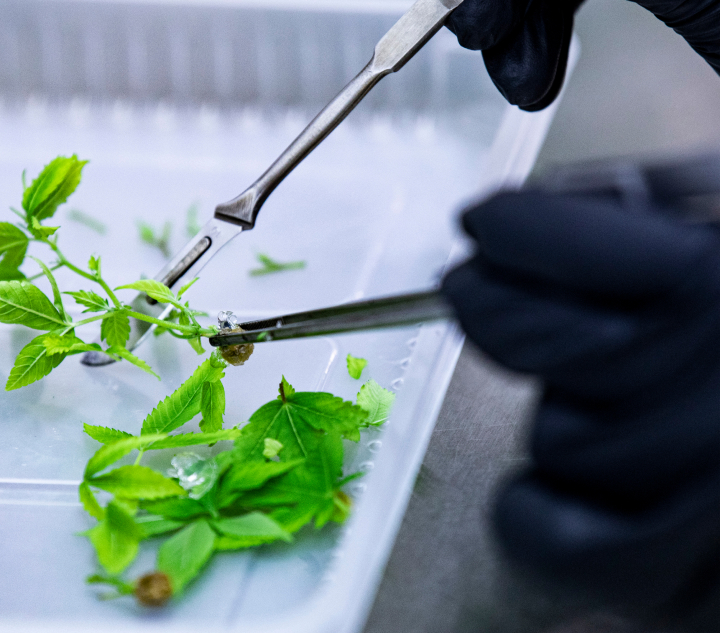 Tissue Culture Propagation
Some commercial cultivators assume that such issues are inevitable and must simply be dealt with. While that may have been true in the past, the future of cannabis propagation has arrived with tissue culture technologies. Conception Nurseries offers a state-of-the-art and highly reliable solution to the common cultivation problem of exhausted, corrupted, and dulled cannabis genetics. YOUR CANNABIS GENETICS
 ARE HIGHLY SECURE
At Conception Nurseries, we protect your intellectual property as if it were our own. Your proprietary cannabis genetics and cultivars are treated with a very high level of protection, including anonymization and robust tracking systems. These careful measures guarantee that your proprietary cannabis genetics remain exclusive to you—with no unauthorized diversion or reproduction of your cultivars.
LEARN MORE ABOUT
EXCLUSIVE PRODUCTION
Our premium Exclusive Production program is a detailed process that is built upon the advantages of plant tissue culture to provide you with rejuvenated and stable cannabis genetics. This process cleans and restores your cannabis genetics to ensure that clones are disease free and feature no pests or pathogens. Not only that: Your restored clones are identical to their restored mother plants.
In addition to cleaning your cannabis genetics, we propagate your flowering stock to save you time and ensure the successful integration of fresh cultivar genetics into your facility.
To learn how you can leverage Conception Nurseries' Exclusive Production program and the value of clean, genetically stable plants for your operations, reach out to our team.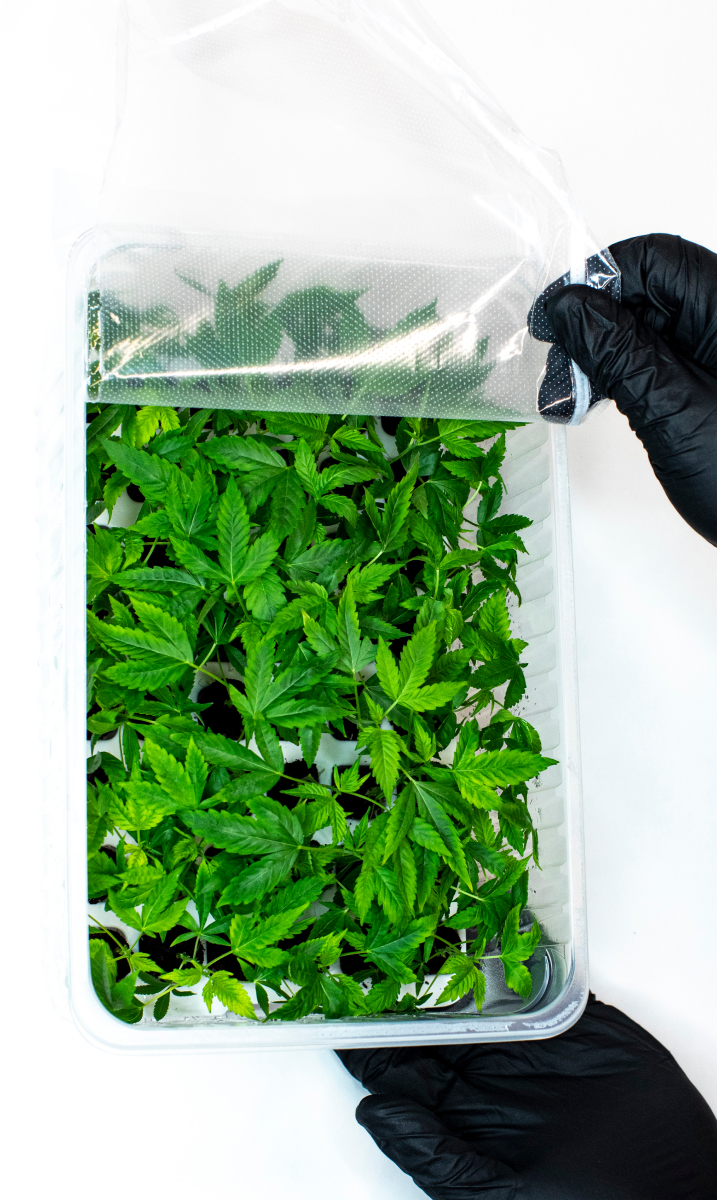 Get in touch
Grow with Conception
Our labs are sterile; our customer service is anything but!